Ambedkar house in London looking for buyers as Indian government loses interest
New Delhi: The 2050 sq ft, three-storey house Dr Bhimrao Ambedkar in London looking for buyers as the Indian government fails to purchase it again after all these years.Rao's house has market price of Rs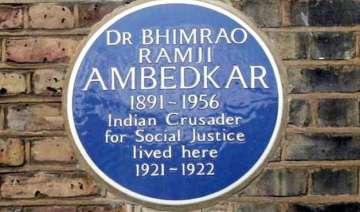 India TV News Desk
January 09, 2015 10:45 IST
New Delhi: The 2050 sq ft, three-storey house Dr Bhimrao Ambedkar in London looking for buyers as the Indian government fails to purchase it again after all these years.
Rao's house has market price of Rs 40 crore. An agent of Goldschmidt & Howland said that after the initial flurry of activity last year, the Indian authorities seem to have lost interest in the property. He added that the agency has now begun looking for other buyers.
Maharashtra Chief Minister Devendra Fadnavis said that they have sent a fresh request to the Centre to acquire the house.
As quoted by a daily, an agent at the agency marketing for the property, Goldschmidt & Howland, said that there has been no follow up since then
Previously the former CM of Maharasthra, Prithviraj Chavan had also made a request made to the Union govt. to buy property. "Towards the end of my term, we had asked the Centre to buy this mansion. It's an international transaction and could have only been carried out by the Union government. I do not know what happened later," said Chavan.
While the govt. slow activities reflects their lost interest, a London based Ambedkarite activist, M S Bahal finds it shameful that Indian govt. needs to be solicited to preserve the country's heritage.
"Hordes of students from Maharashtra go to London. The mansion should be converted into a hostel for them.That would be a fitting tribute to Dr Ambedkar," he said.
This house on King Henry's road was Ambedkar's residence when he was in London in 1920-21 as a student of the London School of Economics.
It was originally a six bedroom terraced house and has now been converted into a one-bedroom garden flat and a five-bedroom maisonette. It requires repair. A blue plaque at the house's entrance commemorates Dr Ambedkar's stay in the house.