Andhra to hold Durga Puja to draw Bengalis
Kolkata, July 6: The Andhra Pradesh Tourism Development Corp (APTDC) plans to organise Durga Puja to draw tourists from West Bengal, its officials said here.In a repeat of the Durga Puja festivities it held last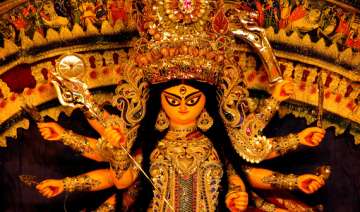 IANS
July 06, 2013 14:20 IST
Kolkata, July 6
: The Andhra Pradesh Tourism Development Corp (APTDC) plans to organise Durga Puja to draw tourists from West Bengal, its officials said here.
In a repeat of the Durga Puja festivities it held last year, the APTDC would hold the festival at five spots frequented by Bengali tourists: Vizag, Dindi, Vijaywada, Suryalanka and Arakku Valley.
An additional spot would be the capital city Hyderabad.
The idols would be taken to Andhra Pradesh from Kolkata's famed potters' colony in north Kolkata, APTDC chairman and managing director Chandana Khan said Friday.
The priests and the drummers (dhakis) would also go from West Bengal. "This will enable the tourists to offer prayers and soak in the festive spirit despite being away from home," she said.
Plush resorts are being set up for the tourists from Bengal with the Andhra government expecting a huge footfall from the state during Durga Puja.
The APTDC is also offering various discount packages for the tourists during the Durga Puja season. It is also providing 25 percent discount to senior citizens on accommodation.