Anna, Ramdev to launch joint movement
Gurgaon, April 20: Gandhian Anna Hazare and yoga expert Swami Ramdev today announced they would launch a joint nationwide movement against blackmoney and corruption from May 1 onwards. The two leaders will sit on a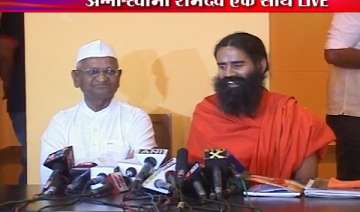 India TV News Desk
April 20, 2012 14:57 IST
Gurgaon, April 20:
Gandhian Anna Hazare and yoga expert Swami Ramdev today announced they would launch a joint nationwide movement against blackmoney and corruption from May 1 onwards.
The two leaders will sit on a day's token fast jointly on June 3 at Delhi's Ramlila Maidan.
Prior to that, Ramdev will launch his yatra from Durg, Chhatisgarh from May 1, while Hazare will begin his state-wide yatra in Maharashtra from Shirdi on that date.
Hazare said, all political parties will be kept out of this joint movement, to which Ramdev added that  social outfits were free to join this movement.
"We have not joined hands to topple this government. If this government falls on its own, let it fall, we are not bothered. Our demand is to have a strong Jan Lok Pal bill and to bring back ill-gotten black money stashed abroad", said Hazare.
Asked why Team Anna members were not present at their one-to-one meeting in Gurgaon's Sahara Grace Club, Ramdev said,  Hazare's associate Arvind Kejriwal was busy in preparing "documents relating to scams of some ministers".
There are no differences among us, said Ramdev.
Hazare said he would go on a tour of all 35 districts of Maharashtra from May 1, and would then join Ramdev on a day's token fast in Delhi on June 3.
From then onwards, both of us will hold joint meetings throughout India, Hazare promised.
"We have  nearly two years left for the Lok Sabha elections in 2014. That is our target", said Hazare.
"So long as my body will permit, I will continue to fight against corruption and black money", said Hazare. To which, Ramdev quipped that the Gandhian was already on to yoga.
Hazare who flew in from Pune to Delhi this morning, went to Gurgaon Sahara Grace club for a one-to-one meeting with the yoga guru. No Team Anna members were present.