Fishing ban period begins in TN
Chennai: The annual 45-day ban on deep sea fishing to facilitate fish breeding began today in Tamil Nadu with a fishermen's association demanding an increase in assistance to fishermen from Rs 2000 to Rs 6000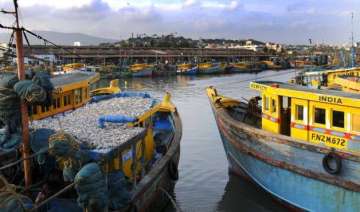 IANS
April 15, 2015 19:44 IST
Chennai: The annual 45-day ban on deep sea fishing to facilitate fish breeding began today in Tamil Nadu with a fishermen's association demanding an increase in assistance to fishermen from Rs 2000 to Rs 6000 during the ban period.
The ban, which began today, saw halt of fishing operations by mechanised and motorised boats.  The ban is aimed at conserving fish and other marine resources during the breeding period.
A fishing association office-bearer, NG Bose, wanted the state government to increase its assistance of Rs 2000 to at least Rs 6,000 for the 45-day period.
He also claimed that the Centre had proposed to increase the ban period to 61 days without consulting the fishermen.
The annual ban is in vogue for over a decade.