Another chilly morning in Delhi, 50 trains delayed
New Delhi: Delhiites today woke up to another chilly morning with icy winds sweeping the city and foggy conditions leading to the delay of 50 trains.  However, sun shone bright at around 9.30 AM and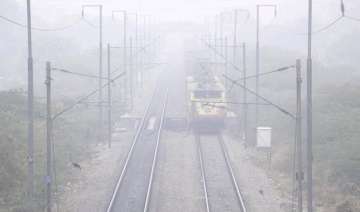 PTI
January 29, 2015 12:10 IST
New Delhi: Delhiites today woke up to another chilly morning with icy winds sweeping the city and foggy conditions leading to the delay of 50 trains.  However, sun shone bright at around 9.30 AM and the sky was clear.
The minimum temperature today settled four notches below the season's average at 4.8 degrees Celsius, which was 3.1 degrees less than yesterday's minimum, a MeT department official said.
The humidity at 8.30 AM was recorded 94 per cent.  Visibility due to foggy conditions was weak and was recorded 400 meters at 5.30 AM which improved to 700 meters at 8.30 AM.
Due to fog, 50 north-bound trains including Prayag Express, Sealdah Rajdhani, Mumbai Rajdhani, Bhubaneshwar Rajdhani, Ranchi Rajdhani, Bhopal Express were delayed and two trains cancelled, said a northern Railway official.  "The sky will become partly cloudy towards the evening.  The maximum temperature is expected to be around 17 degrees," said the MeT forecast.