Another ISIS threat found scribbled at Mumbai airport
Mumbai: Another  threat message warning of an impending terror attack by the Islamic State Group (ISIS) has been found in the men's toilet of Mumbai Airport Terminal 1A.It was spotted by a Central Industrial Security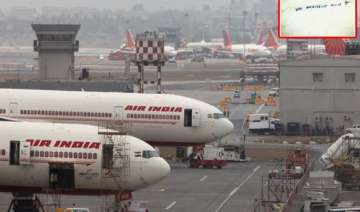 India TV News Desk
January 16, 2015 16:03 IST
Mumbai: Another  threat message warning of an impending terror attack by the Islamic State Group (ISIS) has been found in the men's toilet of Mumbai Airport Terminal 1A.
It was spotted by a Central Industrial Security Force (CISF) personnel on Thursday evening.
The note read, "26/01/2015 IS BOM OK?" with an airplane sign as shown below.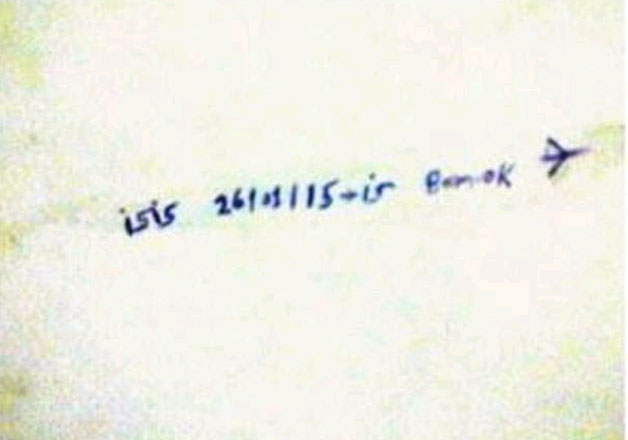 Earlier a similar message was found on January 7 in the washroom wall of arrival terminal 2A. That message read, "ATTECK BY ISIS DATE 10/01/15 (sic)."

Both the notes appeared to be scribbled on the wall with a pen.
Assistant commissioner of police (airport), Madhukar Sankhe, said that closed- circuit television cameras at the airport were being examined.
"We're going through the footage for those who used the toilet late evening," said Sankhe.
The two notes days before US President Barack Obama's visit on Republic Day have raised alarm bells for the intelligence agencies.
Possibility of the two notes being work of pranksters is also not completely ruled out.
Another CISF official said, "Last week the Air India call centre in Thane received a bomb alert. But the caller soon dialled back and admitted it was a joke. These messages could be of the same kind."
ALSO WATCH:
In view of such messages, security measures at the Mumbai airport have been raised considerably. It is on a high alert since intelligence sources spelt out a hijack threat on Air India flights. Armed deployment of jawans in watch booths 100 metres ahead of terminal gates has been doubled and patrolling and physical frisking has also been intensified.
This is also being speculated that the alert messages could have some link with the four Indian youths from Thane near Mumbai who joined ISIS, pointing to the possibility of the network of Islamic State sympathizers being active in the city.