Another suspected IM operative held
Mangaluru/Bengaluru: Another suspected Indian Mujahideen operative, the fourth in the last three days, has been arrested in Karnataka at the Mangaluru international airport, foiling his bid to fly to Dubai.Riyaz (32), a resident of Bhatkal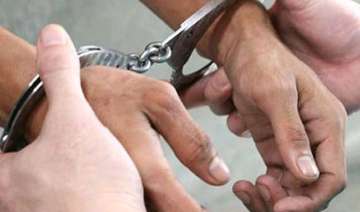 PTI
January 11, 2015 23:37 IST
Mangaluru/Bengaluru: Another suspected Indian Mujahideen operative, the fourth in the last three days, has been arrested in Karnataka at the Mangaluru international airport, foiling his bid to fly to Dubai.
Riyaz (32), a resident of Bhatkal in Uttara Kannada District, was picked up last night by Bengaluru Police with the help of their counterpart in Mangaluru just before he was to board the flight late last night, police said today.
The arrest was made on information provided by three suspected IM operatives, arrested on January 8 in Bhatkal and Bengaluru with the police then saying that they had busted a terror module.
Riyaz had been taken to Bengaluru for interrogation, police said.
In simultaneous raids at at the two places, Bengaluru Police had also seized a huge cache of explosives from the houses of three alleged IM operatives.
The police had also said that the possible role of the trio in the recent Bengaluru blast that killed a woman and injured three others was being probed.
Meanwhile, Bengaluru Police Commissioner M N Reddi has said the interrogation of the three IM operatives was throwing light on the sourcing of explosives in bomb blast cases after 2010.
"The arrest of the accused will fill the missing links in the investigation of various terror cases across the nation," he said in a tweet.
Reddi said since the accused were in contact with foreign handlers, "this aspect is also being probed."