Antakshari to return to TV
Mumbai, April 21: Antakshari used to the most popular reality show on TV during Nineties. It ran for over 10 years, and after fading out, it is now going to make a comeback. The Antakshari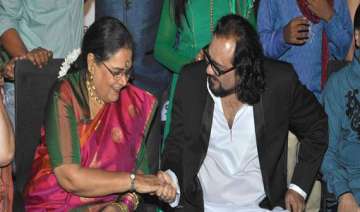 PTI
April 21, 2012 13:55 IST
Mumbai, April 21: Antakshari used to the most popular reality show on TV during Nineties. It ran for over 10 years, and after fading out, it is now going to make a comeback.
The Antakshari format will be revamped in a manner that attracts not just the older crowd, but even Gennext, says an HT City report.
Producer Gajendra Singh, who made his career debut with the show that wrapped up in 2007, says he's working on the new 'game plan'.
"It was my first-ever show. Back then, the novelty worked brilliantly. Until we brought it on TV, Antakshari was only a simple drawing room pastime. The show turned it into a competition that captured the imagination of the entire nation," he recalls.
"The current generation is music driven, but has a different pulse. So the format will have to be developed in a way that grasps their attention, while pleasing the older generations."
When asked if he could set a date for the show's return, Singh says, "It's too premature. I've just started working on it. If all goes well, we'll bring back the same hosts too. If that doesn't work out, we'll find new hosts who connect with kids and adults."
Whle he works on reviving the Antakshari, Gajendra Singh is currently busy on the second season of Bharat Ki Shaan for DD. The show will be judged by Usha Uthup and Ismail Darbar.
Composers Jatin and Lalit Pandit, who had split up six years ago, came together recently  as guest judges on the show.
"I've created a new way of auditioning, by not letting mentors and judges see the kids when they were performing at the auditions. They could only be heard and were purely judged on their voice quality", says Singh, who has created shows like Music Ka Maha Muqable and Chhote Ustad in recent times.
Singh reveals he went to relatively unknown towns and remote villages to scout for 32 kiddie singers for the show.
"I could have taken this show to a bigger channel, but the idea was to reach out to audiences in the smallest villages in India and that's possible only with Doordarshan", said Singh.