Antony to visit Mumbai dockyard where submarine sank
New Delhi: Defence Minister A.K. Antony will be visiting the naval dockyard in Mumbai where a submarine sank after an explosion followed by a fire.Antony will travel to Mumbai later during the day to take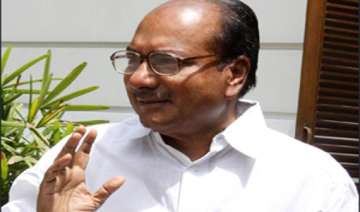 IANS
August 14, 2013 13:43 IST
New Delhi:
Defence Minister A.K. Antony will be visiting the naval dockyard in Mumbai where a submarine sank after an explosion followed by a fire.
Antony will travel to Mumbai later during the day to take stock of the situation, an official said.
Indian Navy chief Admiral D.K. Joshi will also be visiting the dockyard.
Indian Navy submarine INS Sindhurakshak sank Wednesday morning after it was ravaged by a massive fire preceded by a huge explosion.