Farmers should have a long life: Ex-Prez Kalam
Surat: Amidst increasing number of farmers' suicides in India, including the recent incident in Delhi, former President APJ Abdul Kalam said here yesterday that farmers should have a long and fruitful life."I personally believe that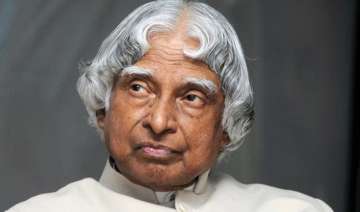 PTI
April 25, 2015 9:31 IST
Surat: Amidst increasing number of farmers' suicides in India, including the recent incident in Delhi, former President APJ Abdul Kalam said here yesterday that farmers should have a long and fruitful life.
"I personally believe that farmers are a very important component of India. They produce 260 million tonne of food.
They feed us and we should see to it that their life is very good. They must have a long and fruitful life," Kalam said while answering a query about farmers' suicides.
Kalam was in the city to participate in the inaugural event of a multi-speciality general hospital at Athwagate area here today.
The issue of farmers' suicides came to the fore after a Rajasthan-based farmer identified as Gajendra Singh committed suicide by hanging himself from a tree in Delhi Chief Minister Arvind Kejriwal's presence at the Aam Aadmi Party's rally in Jantar Mantar area in Delhi against the land bill.
A purported suicide note was recovered from the spot in which the farmer mentioned that he is a farmer whose crops have been destroyed.
This incident sparked a political slugfest among the BJP, Congress and AAP blaming each other for the fatality.
In the Lok Sabha, the opposition also created ruckus on the issue of the farmer's suicide, where members of Left parties staged a walkout, while Congress party members raised anti-government slogans.