App-based cab companies over-running 'ban' orders in Delhi
New Delhi: Despite Delhi government's order to ban app-based cab services after the alleged rape of a finance executive on December 5, several of these are still 'up and running'.In a survey conducted by Times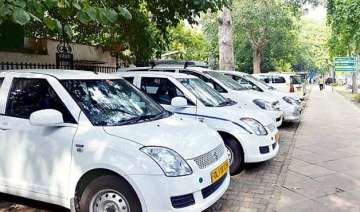 India TV News Desk
January 05, 2015 19:51 IST
New Delhi: Despite Delhi government's order to ban app-based cab services after the alleged rape of a finance executive on December 5, several of these are still 'up and running'.
In a survey conducted by Times of India, app based cab services like Taxi For Sure and Meru Genie were found flouting the ban orders and still accepting bookings.
The Delhi Government issued the ban on December 8 and later, on December 29, the transport department modified it to introduce app-based cab services which had been operating without licenses.
The department laid down a long list of conditions for these companies before they would be eligible for a license. These include getting the company registered as one providing public transport services, running a call centre, making provisions for a panic button, having GPS and fare meters on dashboards along with the name of the driver, car registration number etc prominently displayed there, getting PSV batches for drivers and running taxis solely on CNG.
According to Jaspal Singh, a transport expert and partner at Valoriser Consultants, "None of the app-based services have so far applied for registration with the department. If they are still providing services through their apps, it's totally illegal".
On January 1, the transport department issued two further orders, one for Uber and other for Olacabs, stating that these companies continued to be barred.
Although Uber had completely been off roads since then but Ola cabs are still found running. On being asked, Olacabs did not respond to TOI's query on the status of its services in the capital till late on Sunday night.
Interestingly, the city transport department is aware of the violations. Accoridng to Kuldeep Gangar, spokesperson of transport department "We have been acting against cabs flouting the ban. Last week, 103 such taxis were impounded for running illegally. Besides, we issued public notices asking people not to use these cabs".
Delhi transport officials said the most effective way of stopping the services of the banned companies would be to block their apps. "But that's a decision the Central government needs to take because these apps work across cities," an official said.