Army Chief Drags Govt To Supreme Court On Age Issue
New Delhi, Jan 16: Army Chief Gen V K Singh today took the unprecedented step of dragging the government to the Supreme Court before which he has challenged its decision over his date of birth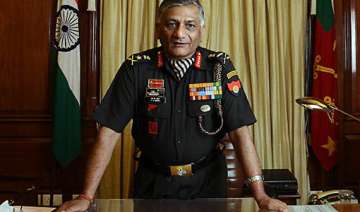 India TV News Desk
January 16, 2012 22:04 IST
New Delhi, Jan 16: Army Chief Gen V K Singh today took the unprecedented step of dragging the government to the Supreme Court before which he has challenged its decision over his date of birth that will mean that he retires in May next.

Making it an issue of his "honour and integrity", Gen Singh filed a writ petition in the apex court after exhausting all statutory options within the Defence Ministry which had recently rejected his contention that he was born in 1951 and not 1950.

The petition challenges the July 21, 2011 order of the Defence Ministry which fixed the date of birth as May 10, 1950 and the December 30,2011 decision by which his statutory complaint was rejected.

He has sought a direction for declaring May 10,1951 as the correct date of birth.

The General's action is without parallel in the history of India's defence forces and is bound to cause acute embarrassment to the government besides raising concerns about the relationship between civilian authority and the Services.

There was speculation on whether the Army Chief would step down or proceed on leave as the Supreme Court deals with his petition, but there was no indication to this effect.

Gen Singh is believed to have stated in his voluminous petition that the issue was not about his tenure but that of his integrity as head of the 13-lakh strong army.

The legal challenge marks the culmination of a simmering row between the General and the Defence Ministry arising out of two different dates of birth in the Army's files.

On the basis of his matriculation certificate and other documents, Gen Singh's date of birth is May 10,1951 and was accepted by the Ministry for most of his service.

However, another document in the shape of his UPSC entrance form filled for NDA course shows the date as May 10, 1950. This is said to have emerged in 2006 since when the matter has been pending.

The petition, filed by counsel Punit Bali, has contended that for 36 years, the army had accepted 1951 as his year of birth and he had got promotions on that basis. He questioned why the government wants to change the date of birth now.

The General is believed to have pointed out that the Supreme Court had ruled that the matriculation certificate was an authentic proof of date of birth in service matters.

Gen Singh has been contending that May 10, 1951 should be treated as his actual date of birth as it was mentioned in his matriculation certificate but the Defence Ministry has rejected it as May 10, 1950 is the date entered in his UPSC entrance form for National Defence Academy (NDA).

By the government decision, he will retire on May 31 this year.

Interestingly, at a press conference on Friday last, the Army Chief had kept his options open on the issue without disclosing the strategy.

Asked if he was contemplating resignation, he had said, "Please leave it to my judgement what do I want to do. It is an issue that concerns me. Let me decide on some action after I get time to think about myself."

Queried if he was not ruling out resignation, he said "let me find time time to think about myself."

Gen Singh, who took over as the Army Chief on March 31, 2010, has been maintaining that the issue related to his "integrity and honour".

He had said that he tackled the issue in "organisational interest".

A para-commando and veteran of 1971 Indo-Pak war succeeded Gen Deepak Kapoor.

Antony, while rejecting Gen Singh's statutory representation, had sent a letter to him expressing full confidence in his leadership.

Home Minister P Chidambaram, a member of the Appointments Committee of Cabinet, last week told a press conference that the age issue of Gen Singh had been dealt with "fairly and justly".

"We hold the Army Chief in great respect. He is a fine soldier. He has done remarkable service to the country. We are unhappy that the controversy should have erupted but I am hopeful that that controversy will be resolved," Chidambaram had said.