Army chief reviews JK security situation at Northern Command
Jammu: Army Chief General Dalbir Singh today visited Udhampur-based Northern Command in Jammu and Kashmir and reviewed overall security situation of the State.The meeting assumes significance in wake of Chief Minister Mufti Mohmmad Sayeed meeting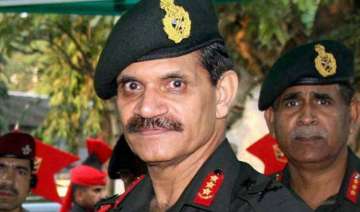 PTI
April 15, 2015 17:25 IST
Jammu: Army Chief General Dalbir Singh today visited Udhampur-based Northern Command in Jammu and Kashmir and reviewed overall security situation of the State.
The meeting assumes significance in wake of Chief Minister Mufti Mohmmad Sayeed meeting five top Commanders, including chiefs of Northern and Western Commands and 3 4 Corps commanders looking after the operational command of Jammu and Kashmir, where Mufti government is batting for revocation of Armed Forces Special Power Act (AFSPA).
The Chief of Army Staff Gen Dalbir Singh arrived on a day's official visit to Headquarters Northern Command at Udhampur today, PRO, Defence Northern Command Col S D Goswami said today.
He was received by the Army Commander Lt Gen DS Hooda, who later briefed him on the overall security situation in the Command theatre and the relief operations undertaken by the Indian Army for the people during recent heavy rains and snowfall in the valley.
The Chief of Army Staff (COAS) also interacted with other senior Commanders present at the Headquarters, PRO said.
The COAS addressed and commended all ranks for the recent operational successes and the high state of operational preparedness.
He also complimented the officers and men of Dhruva Command for extending humanitarian assistance to the Awam, he said.
The visit is more significant in view of Chief Minister Mufti Mohmmad Sayeed batting strongly for partial withdrawal of AFSPA from peaceful areas of J&K and chain of meeting with him by top Army commanders.
Mufti met top commanders under Command of Northern Command including its Chief Lt Gen D S Hooda at dinner meeting on Monday.
Earlier on April 6, top officials of Army's Western Command met Sayeed and discussed overall security situation and other important security issues, including AFSPA.
The GOC-in-C Western Command Lt Gen KJ Singh and General Officer Commanding (GoC), 9 Corps, Lt Gen Rajiv Tewari called on Chief Minister at his residence on April 6 here.
During the meeting, Lt Gen Singh briefed the Chief Minister about the overall security situation in the areas of his responsibility, particularly along International Border in Jammu region and beyond.