Army orders inquiry into Nashik incident
New Delhi: The Army on Wednesday ordered an inquiry into the alleged vandalisation of a police station in Nashik by its personnel while protesting the arrest of an army officer."We have ordered an inquiry into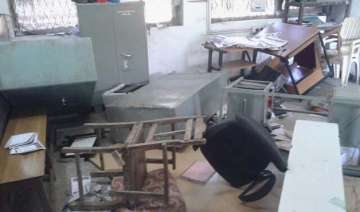 PTI
January 15, 2015 7:31 IST
New Delhi: The Army on Wednesday ordered an inquiry into the alleged vandalisation of a police station in Nashik by its personnel while protesting the arrest of an army officer.
"We have ordered an inquiry into the incident. Meanwhile, our Commander there is meeting with the Nashik police chief to sort out the matter," Army sources here said.
Upnagar police station inspector Namrata Desai said that six army jawans have been detained by the police.
According to the police, an army officer, from School of Artillery at Devlali Camp near Nashik, had allegedly parked his vehicle near the Upnagar police station, which led to an altercation between him and the police.
However, Army sources here refuted the allegations. They said that Lieutenant Ramdas from Artillery School, Devlali, had gone to the police station with his uncle to register a case regarding a family dispute.
"Apparently, his bike was not parked properly and this led to an altercation. The police personnel roughed him up and locked up him and his uncle. The issue was finally resolved at about 5:30 AM in the morning following the intervention of senior officials. However, when the offer reached back, it was found that he had serious injury marks on his body and an agitated group of about 25 officers went to the police station where there was an argument," Army sources said.
The police claim that a group of about 50-60 Army personnel came to the police station around 2 PM.
"They ransacked the furniture there and damaged some police vehicles parked outside the police station," Inspector Desai said.
The police officer also alleged that the protesters locked her in her room and also beat up some policemen in which three constables sustained injuries and were later admitted to Nashik Civil hospital.
"Army and police are working closely in this case and all help is being extended by the School of Artillery in the ongoing investigations," the Army sources said.