Arrested rebel escapes from Meghalaya hospital, two cops held
Shillong, July 18:  A top leader of the outlawed Hynniewtrep National Liberation Council (HNLC) escaped Wednesday from a hospital where he was admitted and two policemen who were supposed to keep an eye on him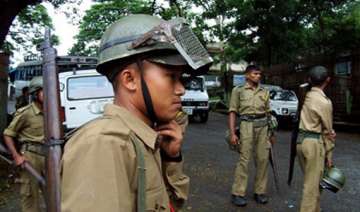 IANS
July 18, 2013 8:39 IST
Shillong, July 18
:  A top leader of the outlawed Hynniewtrep National Liberation Council (HNLC) escaped Wednesday from a hospital where he was admitted and two policemen who were supposed to keep an eye on him were arrested, police said.
Phyrnai Swer, a former Meghalaya constable-turned-lieutenant of the HNLC, escaped from the North East Indira Gandhi Regional Institute of Health and Medical Sciences Wednesday morning, a police official said.
A massive manhunt has been launched to recapture the rebel.
"We have arrested armed branch constables Meytush Sangma and Sanborlang Shylla for facilitating the escape of Phyrnai Swer from the hospital," Mariahom Kharkrang, the district police chief of East Khasi Hills, told IANS.
He said the duo will be presented before a court Thursday. "We are interrogating the constables and we hope they will spill the beans," Kharkrang said.
Phyrnai was arrested Jan 24 from his wife's residence at Iawmusiang in Jowai town after he sneaked into India from Bangladesh.
Before joining the HNLC, Phyrnai was the chairman of a Meghalaya-based Retrieval Indigenous United Front outfit. He was arrested with all his other founding members.
The Khasi outfit is fighting for a sovereign Hynniewtrep homeland in the eastern part of Meghalaya.
The HNLC stages hit-and-run operations from hideouts in Bangladesh. Meghalaya shares a 443-km border with Bangladesh, part of which is porous, hilly and unfenced and thus prone to infiltration.