Asaram Bapu is not hiding, he is suffering from trigeminal neuralgia, will meet police after he recovers, says son
Indore: Narayan Sai, the son of self-styled godman Asaram Bapu, today said his father was unwell and was undergoing treatment for trigeminal neuralgia. "He is not hiding, nor has he gone underground. He is very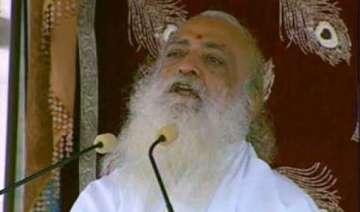 India TV News Desk
August 31, 2013 17:14 IST
Indore:
Narayan Sai, the son of self-styled godman Asaram Bapu, today said his father was unwell and was undergoing treatment for trigeminal neuralgia.
"He is not hiding, nor has he gone underground. He is very much here (in Indore) and doctors are attending to him", said Narayan Sai.
"The moment he recovers from illness, he will join the investigation. If he is required to go to Jodhpur, he would go to Jodhpur. If the Jodhpur police
wants to come here and question him, they are welcome", said Sai, even as a team of Jodhpur policemen waited at the Indore ashram to question the
self-styled godman.
"I can say 100 percent that Bapu is not a rape accused", Sai said repeatedly, amidst shouts of slogans from devotees and supporters.
"You please go through the alleged victim's statement. Nowhere has she said, she has been raped", said Narayan Sai.
Sai brought in a battery of three lawyers, who replied to reporters' questions.
The lawyers said, they would disclose their legal steps before the police, but requested the media to go through the FIR, which itself, they said, was delayed.