Asaram's supporters attack media in Jodhpur, six held, ashram devotees evicted
New Delhi: Supporters of spiritual leader Asaram Bapu, accused of sexually assaulting a schoolgirl in Jodhpur, attacked a journalist and a camera person near his Jodhpur ashram today. Six of them were detained by the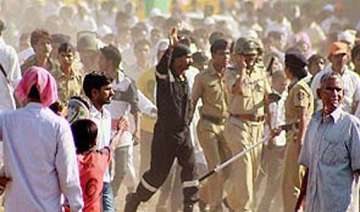 India TV News Desk
August 31, 2013 15:21 IST
New Delhi:
Supporters of spiritual leader Asaram Bapu, accused of sexually assaulting a schoolgirl in Jodhpur, attacked a journalist and a camera person near his Jodhpur ashram today.
Six of them were detained by the police.
One of the victims said that Asaram's supporters were present in large numbers when they were attacked while reporting outside the ashram.
The Rajasthan police has sent a team to find and question the 75-year-old.
Meanwhile, Jodhpur police ordered all devotees to vacate Asaram Bapu's ashram immediately. Nearly 500 devotees had gathered in and around the ashram. They were evicted by police.
Rapid Action Force and Rajasthan Police contingents have been deployed. Several buses have been brought to shift the devotees from the ashram.