Assam: NDFB(S) militant shot dead in encounter
Guwahati: An NDFB-Songbijit 'sergeant major' involved in the killing of a teenage girl that shook the state last year, was shot dead in an encounter in Kokrajhar district tonight, a police officer said.At about 9.15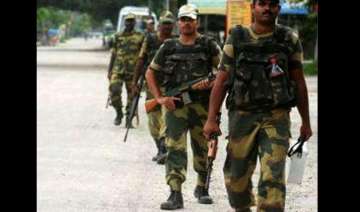 PTI
January 29, 2015 9:45 IST
Guwahati: An NDFB-Songbijit 'sergeant major' involved in the killing of a teenage girl that shook the state last year, was shot dead in an encounter in Kokrajhar district tonight, a police officer said.
At about 9.15 PM the militant exchanged fire with the police in the deep jungles of Ripu Reserve Forest under Kochugaon police station, 5 km north of Nabhi Nagar, IGP L R Bishnoi told PTI.
The slain insurgent was identified as 'sergeant major' Jorneluish Narzary alias Jankla and a 7.65 pistol with a live magazine of four rounds of ammunition, two fired cases and two hand grenades were recovered from him, Bishnoi said.
 
The other extremists who were with Narzary escaped under the cover of darkness in the dense forest, the IGP said.
Narzary was directly involved in the gunning down of 16-year-old Priya Basumatary, a class X student, on August 20 last at Dwimuguri area under Runikhata PS in Chirang district.
Priya was shot dead in full public view in front of her family and villagers on charges of allegedly passing information about the presence of five NDFB(S) cadres in the area leading to their killing in an encounter with police.
Her killers did not allow the family and villagers to take away the body for two days and the militants had sent the video of the killing to news channels in the state.
Besides public outcry and condemnation of the killing, the incident had also rocked the Assembly and Chief Minister Tarun Gogoi had announced a probe into delay in recovering the girl's body.