Axed JNU student Roshni recovering, taken off ventilator
New Delhi, Aug 3 : The 22-year-old JNU student Roshni who was seriously injured after being attacked allegedly by her male friend inside the University campus has been taken off the ventilator and is on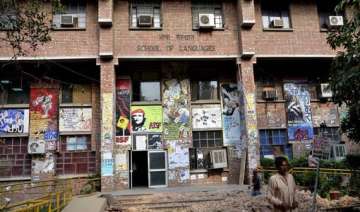 PTI
August 03, 2013 8:37 IST
New Delhi, Aug 3 :
The 22-year-old JNU student Roshni who was seriously injured after being attacked allegedly by her male friend inside the University campus has been taken off the ventilator and is on her road to recovery, doctors said on Friday night.
The JNU student was admitted to Safdarjung hospital in a critical condition on Wednesday.
"She has been weaned off the ventilator and is on her road to recovery. She is responding to her surroundings and moving her limbs," said a doctor who is treating her.
Doctors have conducted two surgeries on her so far.
She was allegedly attacked by her 23-year-old friend Aakash inside the JNU's School of Languages Wednesday morning following an argument.
He had allegedly hit her on the head with an axe before consuming poison and slitting his throat. He died in the AIIMS trauma centre few hours after the incident.
Meanwhile, intensifying investigation into the matter, police are examining the cellphone records of the two in addition to their emails and Facebook accounts. Some of their friends including roommates have also been questioned in this regard.