Ayodhya: Police use water cannon as VHP, Bajrang Dal stage protest in Delhi
New Delhi:  Delhi Police had to use water cannons to disperse Vishwa Hindu Parishad activists protesting the arrest of their leaders by the UP government. Police had to resort to a mild canecharge, as Bajrang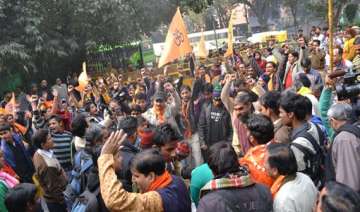 India TV News Desk
August 26, 2013 14:02 IST
New Delhi: 
Delhi Police had to use water cannons to disperse Vishwa Hindu Parishad activists protesting the arrest of their leaders by the UP government.
Police had to resort to a mild canecharge, as Bajrang Dal and VHP workers broke through the barricades set up a Jantar Mantar and tried to march towards Parliament.
The workers were demanding release of their leaders in UP who were rounded up on Sunday during the 84 Kos Parikrama Yatra planned by VHP in Ayodhya and surrounding districts.
All the VHP leaders and sadhus have been sent to 14 days judicial custody in order to foil the yatra which had been slated to continue till September 13.