Babas use knives, kill one passenger, injure 4 on Chhattisgarh Exp near Mathura
Mathura: There was mayhem aboard the Bilaspur-Amritsar Chhattisgarh Express when a group of Sikh babas attacked 5 passengers on the Agra-Mathura route killing a passenger and injuring four others on Friday evening. Mathura police arrested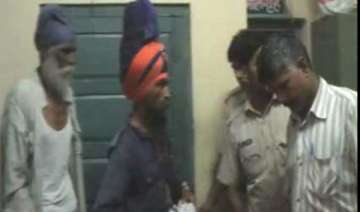 India TV News Desk
August 31, 2013 7:38 IST
Mathura
: There was mayhem aboard the Bilaspur-Amritsar Chhattisgarh Express when a group of Sikh babas attacked 5 passengers on the Agra-Mathura route killing a passenger and injuring four others on Friday evening.
Mathura police arrested two of the babas,  Giriraj Singh and Bhupinder Singh, while the third escaped.
The altercation began occupying berths as there was a large number of commuters on the train.
The babas soon brandished knives and swords and attacked the five passengers.
The passenger killed was Pratap Singh, resident of Kosi Kalan, Mathura.
The four injured are: Sachhidanand Mishra of Bhopal, Pushkar Lavania of Mathura, and Sone Ram and Vidur, both from Morena, said Ramesh Singh Rathore, GRP police inspector.