Babri Committee Convenors Appointed Addl Advocate Generals In UP
Lucknow, Apr 2 : The Uttar Pradesh government has appointed Babri Masjid Action Committee (BMAC) conveners Zafaryab Jilani and Vidhu Bhushan Singh as Additional Advocate Generals (AAGs) to the Allahabad High Court.  Jilani (62), a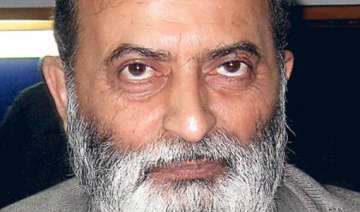 PTI
April 02, 2012 15:25 IST
Lucknow, Apr 2 :
The Uttar Pradesh government has appointed Babri Masjid Action Committee (BMAC) conveners Zafaryab Jilani and Vidhu Bhushan Singh as Additional Advocate Generals (AAGs) to the Allahabad High Court.  
Jilani (62), a practising lawyer in the High Court for the last 40 years, who played a prominent role in Babri Masjid-Ramjanma bhoomi case, will be AAG for Lucknow bench of Allahabad High Court.
He is also a member of the All India Muslim Personal Board (AIMPLB).
Vidhu Bhushan Singh appointed as AAG for Allahabad bench is President of Samajwadi Adhivakta Sabha, a lawyer's wing of the Samajwadi Party.
Singh had served as AAG during previous regime of SP from 2005 to 2007.
An LLB from Allahabad University, Singh started practising law in the Allahabad High Court in 1982.