Bandh in Jaisalmer, as Rajasthan govt transfers SP for reopening Congress MLA's father Ghazi Fakir's history sheet
Jaipur, Aug 4: In another Durga Nagpal-type operation, the Rajasthan government has shifted the Superintendent of Police in Jaisalmer Pankaj Chaudhary triggering a dawn-to-dusk spontaneous bandh by local residents in Jaisalmer city today. The transfer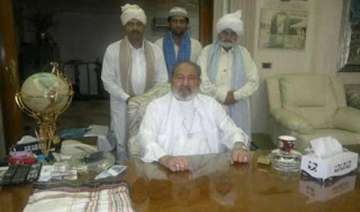 India TV News Desk
August 04, 2013 17:01 IST
Jaipur, Aug 4:
In another Durga Nagpal-type operation, the Rajasthan government has shifted the Superintendent of Police in Jaisalmer Pankaj Chaudhary triggering a dawn-to-dusk spontaneous bandh by local residents in Jaisalmer city today.
The transfer was ordered after the SP directed reopening of the case file relating to notorious history sheeter Ghazi Fakir, father of local Congress MLA Saleh Mohammad.
Ghazi Fakir has been involved in cross-border smuggling and other anti-social activities on the India-Pakistan border since two decades.  
The first history sheet against Ghazi Fakir was opened on July 31, 1965 but that file went missing in 1984.
Although the history sheet was reopened in 1990, it was closed by an ASP-level police officer on May 12, 2011 without the approval of the SP.
After reports appeared in local media, the SP on Saturday ordered the reopening of the two-year-old file.
Ghazi Fakir is a local Congressman and religious figure who has been masterminding the election of candidates in a vast swathe of Jaisalmer since 1985, when he bonded the local Muslims and Meghwals into an alliance. Ghazi Fakir's writ runs over this area to a large extent.
Pointing out that the closure of the history sheet had been unlawful, sources said that the same was therefore reopened on July 31.
"Following a direction from the ADG, the history sheet for Gazi (has been) reopened. His suspicious activities will now be properly monitored by local police," a senior police officer said.