Bangladeshi terror group planning to kill me in New Delhi: Taslima Nasreen
New Delhi: Renowned  feminist author Taslima Nasreen has disclosed that she faces a serious threat to her life from a Bangladeshi terror group.  Speaking to Mail Today, Taslima said that Bangladeshi terror group Ansarullah Bangla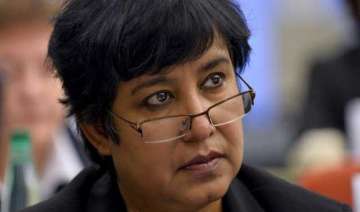 India TV News Desk
April 21, 2015 18:31 IST
New Delhi: Renowned  feminist author Taslima Nasreen has disclosed that she faces a serious threat to her life from a Bangladeshi terror group.  
Speaking to Mail Today, Taslima said that Bangladeshi terror group Ansarullah Bangla Team is plotting to cross over to West Bengal and then travel to the New Delhi to kill her.
The group follows the ideology of Anwar Al-Awlaki, a Yemen-based al-Qaeda activist, and has been involved in the murders of America-based writer Avijit Roy and blogger Washiqur Rahman last month for "criticising Islam".
"Members of the Ansarullah Bangla Team are so brazen that they post online hate messages before they attack. They had done that before killing Avijit and Washiqur and now they are posting hate messages targeting me. It is scary. But as long as I live, I will not be silenced," Taslima told Mail Today.
"The radical Islamists in Bangladesh are definitely after Taslima. She has been on their radar for a while now," an  intelligence officer told Mail Today.
Washiqur Rahman was attacked after he wished Taslima on her birthday. On his Facebook page, Rahman also reposted a cartoon depicting Prophet Mohammed from French satire magazine Charlie Hebdo. And he 'liked' a picture of sausages wrapped in crescent rolls that someone had captioned, "Pigs in burqas".
There has been a long list of threatening posts on Taslima's Facebook page.
"Get ready for the afterlife," one person commented on one of his posts.
"See you in hell," said another.
"Those who murdered Rahman were the students from a Madrasa and were brainwashed by the jihadi group. Madrasas and mosques are breeding ground for terrorists. But governments still continue to build more madrasas and mosques all over the country to get votes from ignorant masses," Taslima told Mail Today.
According to a report in Dhaka newspaper earlier this month, the killers of Rahman confessed that members of the Ansarullah Bengali Team are infiltrating into West Bengal with a plan to assassinate Taslima in Delhi.
However the ruling party in West Bengal, Trinamool Congress have refused to give any statement on the issue while party MP Saugata Roy said, "She is under central government protection. Her security is the central government's responsibility."
Few days back, she took to the micro-blogging site twitter to express her wish to meet Indian Prime Minister Narendra Modi urgently.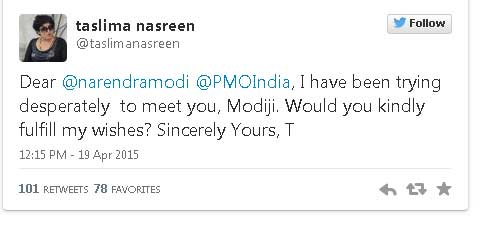 Taslima, the author of controversial book Lajja, is at present staying in India with a resident permit. She has been continuously renewing her Indian visa since 2004. She has been living in exile since 1994 and has lived in the US, Europe and India in the last two decades.