Barack Obama lays wreath at Mahatma Gandhi's memorial
New Delhi: US President Barack Obama on Sunday laid a wreath at Mahatma Gandhi's 'samadhi' (memorial) at Rajghat.He was accompanied by union Minister Piyush Goyal.Obama observed a moment of silence, and took a 'parikrama' around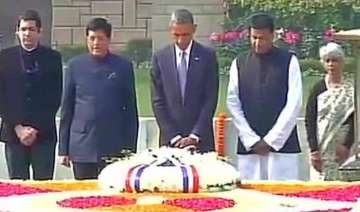 IANS
January 25, 2015 14:21 IST
New Delhi: US President Barack Obama on Sunday laid a wreath at Mahatma Gandhi's 'samadhi' (memorial) at Rajghat.
He was accompanied by union Minister Piyush Goyal.
Obama observed a moment of silence, and took a 'parikrama' around the memorial.
He placed a huge wreath and the paid floral tributes at the memorial.
The American President was presented a replica of Gandhi's famous 'charkha' by the officials of the memorial.
Tomorrow, US President Barack Obama, who arrived here this morning, would attend the Republic Day parade as chief guest during which India's military might and cultural diversity would be showcased in a two-hour open air event.
Last year's chief guest for Republic Day celebrations  was Japanese Prime Minister Shinzo Abe.