BARC begins work on 900 MW pressurised water reactor
Chennai, Aug 12: The Bhabha Atomic Research Centre (BARC), India's premier atomic energy research organisation, has begun work on designing a 900 MW pressurised heavy water reactor (PWR) after successfully building a 20 MW reactor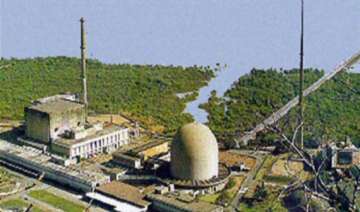 IANS
August 12, 2013 11:59 IST
Chennai, Aug 12:
The Bhabha Atomic Research Centre (BARC), India's premier atomic energy research organisation, has begun work on designing a 900 MW pressurised heavy water reactor (PWR) after successfully building a 20 MW reactor in Kalpakkam and for the INS Arihant submarine, a top official said.
"We are planning to build a 900 MW PWR which will be entirely designed by us. The design work has started. It is called Indian Pressurised Water Reactor (IPWR)," BARC director Sekhar Basu told IANS.
He said it may take around 10 years to build the reactor as one has to assess the capability of Indian industries to participate in such a venture.
Basu said technology is available to build bigger reactors from the smaller one.
Asked about the big leap that BARC is planning in terms of reactor capacity, Basu said: "It is easier to build bigger reactors than the smaller ones. We now have mastered the PWR technology."
He said that across the world, PWR reactors are first built to power submarines and later bigger versions are made.
BARC has a functioning PWR with a capacity of 20 MW at Kalpakkam at its PRP Centre. PRP originally stood for Plutonium Reprocessing Project. Prior to his current position, Basu headed the PRP.
The reactor for INS Arihant was designed and built based on the reactor at Kalpakkam, around 70 km from here.
Another nuclear scientist told IANS that the PWR uses enriched uranium as fuel and ordinary water as coolant and moderator. A new enrichment plant has also been built in Mysore.
Taking a big leap is not new for the Indian atomic establishment. It had also designed the country's first fast breeder reactor that creates more fuel during fission than it consumes.
The 500 MW prototype fast breeder reactor (PFBR) was designed by Indira Gandhi Centre for Atomic Research (IGCAR), Kalpakkam, with a 14 MW test reactor called fast breeder test reactor (FBTR).