Bihar increases maternity leave period, to give child care leave
Patna: In a major policy decision affecting the well-being of its women employees, Bihar government today increased the duration of maternity leave to 180 days from 135 days, and also made provisions for 730 days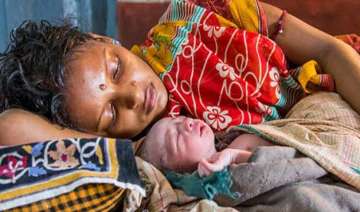 PTI
January 06, 2015 19:56 IST
Patna: In a major policy decision affecting the well-being of its women employees, Bihar government today increased the duration of maternity leave to 180 days from 135 days, and also made provisions for 730 days of child care leave.
Principal Secretary of Cabinet Department B Pradhan said the decision was taken at a Cabinet meeting presided over by Chief Minister Jitan Ram Manjhi.  "It was realised that there was no provision for child care leave for women government employees in the Bihar Service Rules. The government has decided not only to increase the maternity leave to 180 days, but also to provide 730 days leave to tend to the children during their illnesses, examinations or to raise them up," Pradhan said.
The maternity and child care leave would be given to women government servants for two children only during their entire service period.
Pradhan said the state cabinet also approved setting up a liquor distillation and a bottling unit at Devadi village in Bhojpur district. The units will be established by Chandigarh-based company 'Bihar Distillers and Bottlers' at a cost of Rs 160 crore.
"The company will establish a 2.28 kilo litres per annum molasses or grain based distillery unit and an Indian Made Foreign Liquor (IMFL) unit to bottle 24 lakh cases per year.
These would be established with the help of private capital investment," Pradhan said.
He further added that 29 acres of land have been arranged for the two liquor units and the project would provide direct employment to 320 skilled and unskilled workers.
The cabinet also approved the proposal to establish Rural Agri Business Centre (RABC) in the state. A subsidy of up to 35 per cent with maximum amount limit of Rs 5 crore would be given against capital expenditure. There are plans to establish 52 RABC, and the main component of this project was dry or cold warehousing.
"Under RABC project mainly paddy and wheat will be stored because other crops like onion, pulses, oilseeds and spices could not be stored from a long duration," Pradhan said.
In another decision, the state cabinet approved the proposal to provide five decimal land to homeless SC, ST and other eligible persons. If the settlement is a cluster, preferably of 20 families then 100 decimal land will be given for housing and additional 20 decimal land for road and community centre.
The state government has also to allow one time conversion of Bihar State Housing Board (BSHB) land or flat from leased category to 'free-hold'. This will allow a person to have direct ownership of land or flat and he will also be able to rent or sell it.
Those who want to convert their leased land or flat into freehold category will have to take prior permission and fulfill the conditions stipulated by BSHB.