Bihar midday meal: Poison in food served to students, says Bihar official
Patna, July 18: A Bihar official Tuesday admitted that there was poison in the food served to students of a primary school in Saran district that left at least 22 children dead and dozens sick."It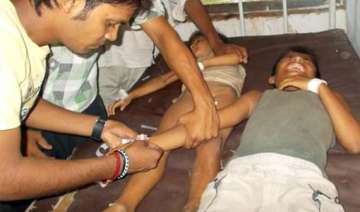 IANS
July 18, 2013 18:12 IST
Patna, July 18:
A Bihar official Tuesday admitted that there was poison in the food served to students of a primary school in Saran district that left at least 22 children dead and dozens sick.
"It is clear that it is not a case of food poisoning but poison in food," said Principal Secretary, Health, Amardeep Sinha at a press conference here.
He said the edible oil used to cook the midday meal for the students of Dharmasati Gandavan primary school in Dandaman village in Saran, 100 km from here, was contaminated.
Sinha reiterated the government's earlier charge that the principal of the school was to blame for the incident, saying that she had told the cook to use the contaminated oil even though the cook had said there was something wrong with it.