BJP demands CBI probe into Delhi Transport department scam
New Delhi, Aug 7 : Delhi BJP on Tuesday  demanded a CBI inquiry into what it called a multi-crore scam in Delhi government's transport department alleging involvement of high-profile people, including Chief Minister Sheila Dikshit.A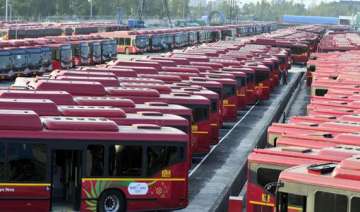 PTI
August 07, 2013 8:50 IST
New Delhi, Aug 7
: Delhi BJP on Tuesday  demanded a CBI inquiry into what it called a multi-crore scam in Delhi government's transport department alleging involvement of high-profile people, including Chief Minister Sheila Dikshit.
A delegation comprising senior leaders including V K Malhotra, Vijay Goel and Harsh Vardhan met Lt Governor Najeeb Jung and handed over a memorandum demanding a CBI inquiry into the "Rs 1,000 crore scam".
The Anti-Corruption Bureau (ACB) of Delhi government has been probing the alleged irregularities in award of fitness test of commercial vehicles to a private firm in 2008 without inviting any tender.
The case was registered in the scam on a complaint of RTI activist Vivek Garg alleging the contract for lane test of commercial vehicles for fitness certificates was given by the Delhi government to ESP India by flouting norms.
BJP said the ACB has enough proof to nail the politicians in the scam.
Justifying the demand for CBI probe, the party in the representation claimed that recently two officials of Transport Department -- Anil Chikara and M A Usmani -- who are main witness in the case, have recorded their statement in the Tees Hazari Court against the Chief Minister and a number of her cabinet colleagues.
Delhi Government has already dismissed the allegations as "baseless" and "politically motivated".
The ACB had told the court that it was probing the role of government officials in alleged corruption in the case. The investigators have already issued notice to former transport commissioner R K Verma to join the investigation.
In its report to the court last year, the ACB had said that contract for crucial fitness test of commercial vehicles was awarded to the firm without any tender with approval of Delhi Cabinet but "no irregularities" could be found on part of the chief minister.
Malhotra said the delegation conveyed to Jung that as per the legal procedure, if any witness takes the name of any individual during his statement in the court or to investigation agency, it becomes essential that enquiry is conducted against such person.