BJP Expels 7 'Rebel' Councillors
New Delhi, Apr 2: Getting tough with rebels ahead of municipal elections in Delhi, BJP today expelled seven sitting councillors from the party for "breaking party discipline" and warned action against those leaders who have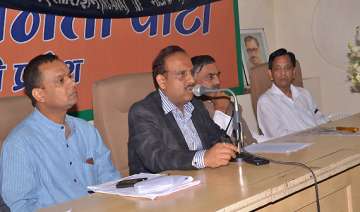 PTI
April 03, 2012 18:39 IST
New Delhi, Apr 2:
Getting tough with rebels ahead of municipal elections in Delhi, BJP today expelled seven sitting councillors from the party for "breaking party discipline" and warned action against those leaders who have fielded their spouses against official candidates.
The councillors who faced the axe were Praveen Rajput, Rajesh Yadav, Prabhat Singh, Harish Awasthi, Sudesh Bhasin, Jagdish Mamgain and Veena Abrol.
Mamgain has already resigned from the party while others were contesting against party's official candidate after being denied tickets for contesting the April 15 Delhi municipal polls.
"If someone steps out of party and breaks the party line, it will be called gross indiscipline and action will be taken against them. Seven sitting councillors have been expelled from the party for six years," Delhi BJP president Vijender Gupta told reporters.
However, Gupta claimed the BJP office had not received any resignations and hence the candidates were expelled.
The party had reached out to rebels and tried reasoning with them, Gupta said, adding, most of them were persuaded to keep working for the party.
"Hundreds of candidates are vying for just 272 seats, how is it possible that everyone will get a seat? Party workers who have been loyal, irrespective of whether they have got tickets or not, will be rewarded, whereas those who go against the party line will be punished," he said.
The list of candidates whose wives have filed nomination papers against official BJP candidates is being compiled, and action will be taken against such candidates too, a party spokesman said.
Leader of Opposition in the Legislative Assembly, V K Malhotra said the MCD election would be won by BJP as there is a strong anti-Congress wave due to inflation and graft.
"This time there is a strong anti-Congress wave due to incessant corruption and price rise. BJP will win in all three corporations and we will have mayors in all three," he said.
The BJP has price rise, corruption and deteriorating law and order on its agenda for the municipal polls this year, he said.