BJP Flays Rahul's Remarks
Lucknow, Jan 8: Slamming Congress leader Rahul Gandhi for his remarks on BJP selling religion for votes, the main opposition party today advised him to restrain from using such a language on a sensitive issue."What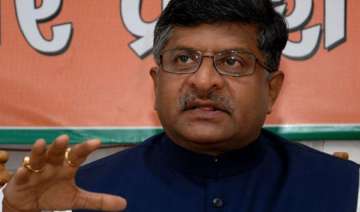 PTI
January 08, 2012 20:12 IST
Lucknow, Jan 8: Slamming Congress leader Rahul Gandhi for his remarks on BJP selling religion for votes, the main opposition party today advised him to restrain from using such a language on a sensitive issue.

"What kind of language Rahul Gandhi is using by talking about selling Ram who is our Lord. We all worship him. From this, one understands how much he knows about the heritage, otherwise he would have not made such comments," BJP general secretary Ravi Shankar Prasad said.

"The BJP strongly condemns the language used by him and ask him to refrain from making such comments on a issue which has strong sentimental and emotional attachment," he said.

"Rahul Gandhi needs to know India and should not offend majority community sentiments in such a crude manner," Prasad said.

On Babu Singh Kushwaha, he said the former minister in the Mayawati government joined the BJP to associate himself with the struggle against quota for minorities.

"If there is a CBI inquiry against him, it should proceed and if any action is taken against him, the party is not going to save him. "However, the agency is being misused, several facts came about the family of Mayawati but this is not visible to the CBI," Prasad said.

During a rally at Gorakhpur in Uttar Pradesh, the Congress general secretary had attacked the BJP for taking Kushwaha into the party.

"But who do you think took him in?..The same party that sold you Shri Ram's name for votes was bought by Kushwaha," Rahul had said.