BJP Hits Villages For Its Poll Campaign In Goa
Thane (Goa), Jan 18: A loudspeaker mounted on a vehicle broke the evening calm of this village nestled on the foothills of Sahyadri.Its chilling and people are waiting for BJP's much publicised Jana Sampark Abhiyaan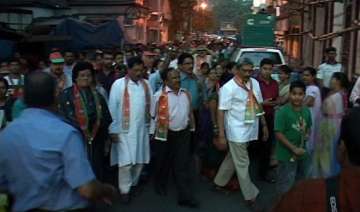 India TV News Desk
18 Jan 2012, 21:19:17 PM IST
Thane (Goa), Jan 18: A loudspeaker mounted on a vehicle broke the evening calm of this village nestled on the foothills of Sahyadri.

Its chilling and people are waiting for BJP's much publicised Jana Sampark Abhiyaan to touch down. After a wait for two hours, sharp at 9.30 pm, a tempo decked up with party posters arrives here hitting the dusty road followed by several vehicles.

BJP's star campaigner Manohar Parrikar arrives here with his team. This is a last point for the second day of the Abhiyaan, which had traversed through Iron ore rich mining belt of Bicholim taluka yesterday.

Thane village is a different landscape. Its a tiny village in Poriem constituency, dotting Mhadei Wildlife Sanctuary.

The village has been traditionally a Congress bastion.  Pratapsingh Rane, Goa's chief minister for three decades and current Speaker of legislative assembly, has been winning here hands down.  This time, he is getting a challenge on his home turf from his clan itself.

Vishwajit Krishnarao Rane, 37, son of freedom fighter Krishnarao Rane, has been tipped as BJP's trump card for Rane.

Incidentally, Pratapsingh Rane's own son is also named Vishwajit Rane, who is currently health minister in Digambar Kamat cabinet.

"Change is the rule of nature. Everyone has to retire.  Even judges retire at 62," Parrikar, said via a microphone standing on the yatra vehicle.

"People here should go for a change now," he appealed receiving applaud from the crowd.

Thane villagers are largely dependent on agriculture for their livelihood. Farming is a major source of income although few of them do go to Valpoi, 10 kms away, to work in the service sector.

Parrikar, a former chief minister, who had introduced schemes like Dayanand Social Security yojna, tries to catch of people reminding him about BJP-led government's performance.

"We did not want people to be begging for money from government schemes. Thats why we started depositing it in the bank accounts directly," he reminded assuring the crowd that the scheme will be functioning better if BJP comes to power.

Contrary to the popular image of Goa, a destination of beaches, the village here resembles more of any rural India.

"Politicians come here only during elections. We enjoy their speeches. Lets see who will win this time," reacted Ramu Gaonkar, a local resident who was feasting on the dinner provided by BJP next to yatra vehicle.

BJP through its Abhiyaan has decided to reach to 35 constituencies in 15 days. It was flagged off by party's senior leader Arun Jaitley on Monday.