BJP launches Delhi assembly polls campaign, Gadkari, Sidhu absent
New Delhi, Aug 11: BJP today kickstarted its campaign in Delhi for the upcoming assembly polls by launching a major offensive against the Sheila Dikshit government and announced lowering of power tariff by 30 per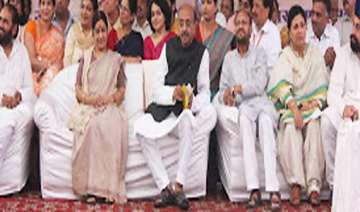 PTI
August 11, 2013 19:24 IST
New Delhi, Aug 11:
BJP today kickstarted its campaign in Delhi for the upcoming assembly polls by launching a major offensive against the Sheila Dikshit government and announced lowering of power tariff by 30 per cent, if voted to power.
At a big rally at the Ramlila ground here, BJP President Rajnath Singh announced that no one can stop BJP from coming back to power and ousting the "corrupt" Congress government which has been ruling for the last 15 years.
Giving a clarion call to oust the Dikshit government, he said, "This huge rally at Ramlila Maidan has sent a strong message that now no power in the world can stop the ouster of this government in Delhi."
"We should take a pledge from this Ramlila ground to change both the Delhi government in the coming assembly polls and later the Central government in the 2014 general elections," the BJP Chief told the rally.
Singh said it was unfortunate that Congress despite ruling for a majority period post-Independence was unable to eradicate poverty. He claimed that over one crore people in Delhi were still living without basic amenities and promised to remove poverty in the next five to seven years.
Alleging a 'massive scam' in the power sector, Delhi BJP Chief Vijay Goel announced that they will order a CAG audit of all power companies operating in Delhi and the electricity rates will be brought down by 30 per cent, if voted to power.
Today's rally saw various factions within the Delhi unit of the party come together, with Goel and his detractors like senior leaders V K Malhotra, Harsha Vardhan, Arti Mehra and Vijendra Gupta putting up a united show.
BJP's Delhi election incharge Nitin Gadkari and party's co-convener for Delhi affairs Navjot Singh Sidhu were, however, conspicuous by their absence.
Goel alleged that consumers were being "fleeced" by private power distribution companies in connivance with Delhi Government. He rued that there was no competition among power companies leading to unregulated power rates.
He also unveiled a 10-point formula to bring down the electricity tariff by 30 per cent.
"To pay electricity bills, you will soon have to take bank loans. It's not a BJP rally, it is an 'aakrosh rally'. It is a movement against exploitation. If voted to power, we will cut the tariff by 30 per cent. If my formula is followed, the Chief Minister can cut tariff from tomorrow," Goel said.
Explaining his formula, Goel compared the power sector with telecom sector and wondered why the electricity tariff cannot be brought down if competition is encouraged among various discoms, on the lines of call rates that came down drastically following competition among telecom companies.
"In 1996, mobile rate for incoming and outgoing was Rs 16 and now it is 30 paisa. Because of competition, the rates came down. The day we come to power, we will make discoms compete with each other," Goel said.
At present, each of the three private power distribution companies operates in separate areas and there is no competition among them.
Promising to bring transparency in the power sector if his party won, the Delhi BJP president said discoms and Delhi Electricity Regulatory Commission will be put under CAG ambit.
"We will bring transparent power purchase mechanism. The discoms sell you costly power because they buy it at higher rates from their own companies and put the burden on the consumers...We will bring these companies under RTI. We will also be setting up laboratories in every district to monitor and test the electricity metres," he said.
"The way they were (the UPA) caught in 2G scam, the Delhi government will also be caught here," he said amid applause.
He also slammed Delhi Government for scarcity of water, and said half of Delhi "remains thirsty" all the time but the Chief Minister claims that only a few places don't get water.
Power tariff in the city was hiked by 22 per cent in 2011 followed by a five per cent more in February last year. The rate raised by up to two per cent in May last year and again by 26 per cent for domestic consumers in July last year. The tariff was hiked by up to three per cent in February.
Last month, the tariff was hiked by five per cent but immediately Dikshit had announced subsidy for consumers whose monthly consumption did not exceed 400 units.
The rally was also addressed by senior party leaders V K Malhotra, Harsha Vardhan, Vijendra Gupta and Arti Mehra. Bollywood actress Kirron Kher too was present.