BJP, Shiv Sena Agree to Give 29 Seats To RPI In BMC Polls
Mumbai, Jan 9 : Shiv Sena and BJP on Sunday night decided to leave 29 seats from their quotas for ramdas Athawale's Republican Party of India in the BMC polls. At a meeting of the 'grand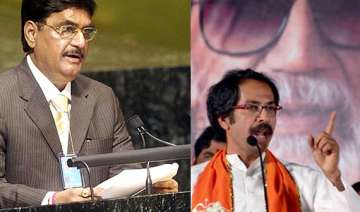 India TV News Desk
January 09, 2012 8:55 IST
Mumbai, Jan 9 : Shiv Sena and BJP on Sunday night decided to leave 29 seats from their quotas for ramdas Athawale's Republican Party of India in the BMC polls.
 
At a meeting of the 'grand alliance' at the Mayor's residence in Shivaji Park, the party leaders had a conference call with Athawale after which they decided to leave the seats for RPI.
 
The meeting was attended by state BJP chief Sudhir Mungantiwar, Gopinath Munde, Leader of Opposition Vinod Tawde from BJP's side, and Uddhav Thackeray and Subhash Desai from Shiv Sena's side.
 
Later, Vinod Tawde said, the three parties will jointly announce the names of their candidates at a press conference soon.