Bodoland demand: Railway cancels, regulates trains following blockade by Bodo groups
Guwahati, Aug 2:  Nine trains have been cancelled, twelve others have been regulated in the Up direction and five in the Down direction by the North East Frontier Railway in the wake of the 12-hour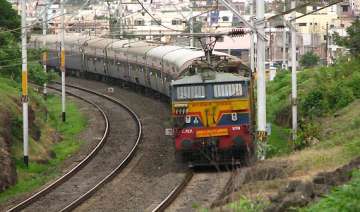 PTI
August 02, 2013 15:48 IST
Guwahati, Aug 2: 
Nine trains have been cancelled, twelve others have been regulated in the Up direction and five in the Down direction by the North East Frontier Railway in the wake of the 12-hour rail blockade called by different Bodo organisations demanding a separate state of Bodoland. 
Three trains have been rescheduled and two trains have been terminated and partially cancelled, NF Railway spokesman S Hajong said.
The trains that have been cancelled for today are the 15469/15470 Alipurduar-Lumding-Alipurduar Intercity Express, 15471/15472 Alipurduar-Kamakhya-Alipurduar Intercity Express, 55609 Dhubri-Fakiragram Passenger and 55611 Fakiragram-Kamakhya.
The other cancelled trains today are 55901 Lumding-Tinsukia passenger, 55902 Tinsukia-Lumding passenger, 55754 Guwahati-Alipurduar passenger, 55753 Fakiragram-Guwahati passenger, 55601/55602 Kamakhya- Lumding-Kamakhya passenger and 15665/15666 Kamakhya-Dimapur-Kamakhya BG Express.
The major Up trains regulated are the 12436 Rajdhani Express at Tinmailhat and 12424 Up Rajdhani Express at Aluabari Road, while the 12235 Dn Dibrugarh-New Delhi Rajdhani Express has been regulated at Guwahati and 12423 Dn Dibrugarh Town-New Delhi Rajdhani has been regulated at New Bongaigaon.