Braveheart Bureaucrat Fights Burglars, Stabbed Eight Times In Delhi's Vasant Kunj
New Delhi, Apr 1 : Vijay Gupta, additional Director General, Foreign Trade, in the Commerce Ministry,  on Friday evening battled with two armed burglars who had sneaked into his flat in Vasant Kunj in south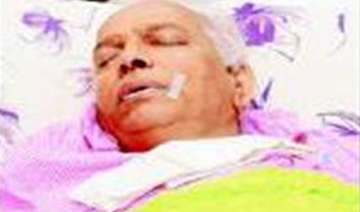 PTI
April 01, 2012 9:49 IST
New Delhi, Apr 1 :
Vijay Gupta, additional Director General, Foreign Trade, in the Commerce Ministry,  on Friday evening battled with two armed burglars who had sneaked into his flat in Vasant Kunj in south Delhi, and was stabbed eight times by the intruders.  
The braveheart bureaucrat and his wife had returned from a party at the India Habitat Centre at around 9 pm, when they heard a noise from their balcony and Gupta went to investigate, reports Times of India.  
"The two burglars pushed him inside. As he screamed and resisted, they began hitting him. They stabbed him repeatedly with a knife. To help my husband, I rushed into a room that opens into the balcony and screamed", recalled Kusum, his wife.  
As she reshed into the room ad tried to lock it from inside, one of the burglars blocked her, but he returned to assist his accomplice and attacked Gupta again. During the scuffle, Gupta bit a burglar's finger.  
As Kusum raised an alarm, passersby and neighbours rushed to their rescue. But by that time, the burglars had escaped.  
All this took place within a span of 15 minutes. Police said, it appears the burglars had done a recce of the area and were familiar with the entry and exit points.  
Gupta's son was on vacation in Rajasthan and their daughters live separately.  
"A series of flats were targeted by burglars in C and D blocks a few days ago", said a resident. Residents alleged that a vacant plot of land and a jungle behind these blocks served as hideouts for criminals.  
Burglars had struck at some flats in C and D Block of Vasant Kunj on March 5 and decamped with valuables worth several lakhs of rupees.