Navy commander dies, 2 hospitalized after deadly gas leakage on warship at Mazgaon dockyard
Mumbai: The Indian Navy was hit by yet another mishap today with leakage of a deadly gas on an under-construction warship claiming the life of a Commander and hospitalisation of two others, nine days after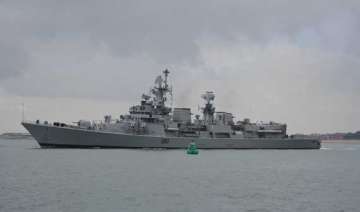 PTI
March 07, 2014 22:03 IST
Mumbai:
The Indian Navy was hit by yet another mishap today with leakage of a deadly gas on an under-construction warship claiming the life of a Commander and hospitalisation of two others, nine days after a similar accident led to resignation of Navy Chief Admiral D K Joshi.
42-year-old Commander Kuntal Wadhwa died before reaching hospital after inhaling carbon dioxide that leaked from a malfunctioning unit just little after noon when the Kolkata Class 'Yard-701' warship was undergoing tests in the Mazagaon Dock Limited (MDL), officials said.
Two employees of the defence ministry shipyard also were affected by the gas leakage and were taken to hospital. An MDL official said they have been discharged.
The warship, which was to be named INS Kolkata, is to be commissioned on March 27 and officials said there will be no delay in that.
The fresh mishap, which came just nine days after fire and smoke in submarine INS Sindhuratna claimed lives of two officers, triggered demands for Defence Minister A K Antony's resignation.
Admiral Joshi had quit as Navy Chief after the Sindhuratna incident, which was the 10th in a series of such mishaps, taking "moral responsibility". Vice Admiral Robin Dhowan is currently the Acting Navy Chief.
Preliminary inquiries into today's mishap suggested that the valve of firefighting equipment and Nuclear, Chemical and Biological Warfare capabilities of the warship burst when a specialist team was making checks, sources told PTI in Delhi.
Cdr Wadhwa, who was the Commander (Engineer) of the largest destroyer of the Navy, inhaled large amounts of the gas as he was not wearing a mask, they said.
Navy and the shipyard have set up separate boards of inquiry into the incident.
"Wadhva, 42, was declared dead before admission in St George Hospital at 1317 hours. He was a resident of Colaba and his relatives are coming from Thane," Additional CP Krishna Prakash.