Bukhari Has Communal Leanings Says Digvijay
Indore, Jan 30 : Congress General Secretary Digvijay Singh on Sunday  lashed out at Delhi's Jama Masjid's Shahi Imam Syed Ahmed Bukhari, who has extended support to Samjawadi Party, saying that he was "a man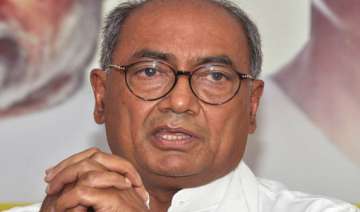 India TV News Desk
January 30, 2012 7:29 IST
Indore, Jan 30 : Congress General Secretary Digvijay Singh on Sunday  lashed out at Delhi's Jama Masjid's Shahi Imam Syed Ahmed Bukhari, who has extended support to Samjawadi Party, saying that he was "a man with communal leanings". 

Digvijay, who is also party in-charge of Uttar Pradesh, told reporters that "Bukhari is the same person who had praised Osama Bin Laden and expressed anger over the latter's killing. He is a communal type of man". 

Continuing his tirade against the cleric, Digvijay said, "after the 2002 Gujarat riots, Bukhari had issued a diktat in 2004 asking voters to vote for BJP. Earlier, Kalyan Singh, who is responsible for the demolition of Babri masjid, rode the bicycle of Samajwadi Party, and now Bukhari is riding it". 

The former Madhya Pradesh chief minister also claimed that when Bukhari was opposing Samajwadi Party, he was party chief Mulayam Singh Yadav who had advised him to do "imamat and not siyasat" (do religious work and not politics).  The senior Congress leader also said there was a dissent in SP over Bukhari.

Replying to a query, Digvijay clarified that neither Bukhari has given any statement in favour of Congress nor the party would prefer to take his support.  Targeting the BJP, he said the fact that the party brought Uma Bharti to UP shows it is suffering from leadership bankruptcy in the state.

"BJP president Nitin Gadkari did not trust the capabilities of seasoned leaders like Rajnath Singh, Kalraj Mishra, Lalji Tandon and Surya Pratap Shahi in Uttar Pradesh.  That is why he has got Uma Bharti from Madhya Pradesh, which shows the bankruptcy in BJP leadership," Digvijay said. 

In its election manifesto, the BJP has said that it is dedicated to removing obstacles for building the Ram Mandir, which was an attempt to provoke "religious sentiments," he alleged.

He also demanded an inquiry into the state Sarva Shiksha Abhiyan.

On accusations that government had bowed to some Muslim fundamentalists on the issue of Salman Rushdie's visit to the Jaipur Literature Festival, he said, "Rushdie was never told not to come to India. He does not need any visa to come to the country and he is free to visit any time."

Attacking BJP government in Madhya Pradesh, he alleged that "Chief Minister Shivraj Singh Chouhan and industries minister Kailash Vijayvargiya were two sides of the same coin and both were indulging in corruption."
"I challenge the BJP and RSS to level even one allegation of corruption against me. The question of proving will come later on," he said while addressing a rally at Reliance ground here.

The extent of corruption in the state can be seen "from instances where crores of rupees have been seized from clerks, store keepers and peons during raids," he alleged.

The state will be buried under the burden of over Rs one lakh cr debt by next year, which shot to Rs 94,000 cr under the BJP government from Rs 26,000 cr during Congress rule, he claimed.