Bulandshahr: PMO offers a helping hand to a poor youth for marrying his sisters
Bulandshahr: Manjeet, a resident of Bulandshahr's Khadana village, has written a letter to Prime Minister Narendra Modi expressing his concerns about the marriage of his two younger sisters.25-year-old Manjeet, employed at a private school in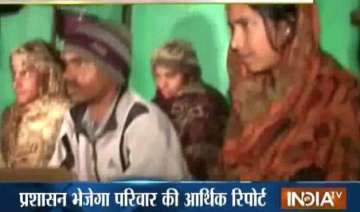 India TV News Desk
January 05, 2015 17:17 IST
Bulandshahr: Manjeet, a resident of Bulandshahr's Khadana village, has written a letter to Prime Minister Narendra Modi expressing his concerns about the marriage of his two younger sisters.
25-year-old Manjeet, employed at a private school in the village, has urged the Prime Minister to help financially for organising marriage ceremony of his younger sisters.
After taking cognizance of the letter, the Prime Minister's Office (PMO) has now sought details about youth's family, including his financial status, from the district administration.
"I have written a letter to the Prime Minister. Now I have received a letter from his end. An accountant general from nearby village recently visited my place and enquired a few things," Manjeet said.
The letter was originally dispatched by Manjeet to PMO in January 2014 when Manmohan Singh was heading the Congress-led UPA II government. A copy of the same letter was also sent to Congress president Sonia Gandhi and vice-president Rahul Gandhi. But Manjit did not receive  any  reply from them.   
When Narenda Modi assumed the office in May last year, the PMO actively started addressing public grievances.
"I am hopeful that the actions by Prime Minster Narendra will help me and my family," Manjeet added.
When local administration was asked the status of case, Arun Kumar Yadav, ADM, said, "We are preparing the report… We will forward the details to the Prime Minister's office."
Manjeet's monthly income is Rs 2,200 and he also offers tuition classes. His father, Sukhpal Singh, was an employee of a private firm.