CAG points out lacunae in toll system of Maharashtra
Mumbai: Even as Maharashtra government announced closure of 12 toll nakas in the state from May 31, the CAG has slammed the state's toll policy and pointed out various lacunae in the system.A Comptroller and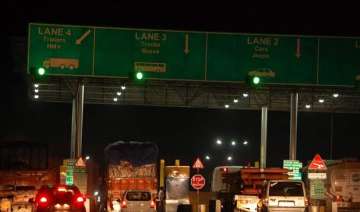 PTI
April 11, 2015 7:48 IST
Mumbai: Even as Maharashtra government announced closure of 12 toll nakas in the state from May 31, the CAG has slammed the state's toll policy and pointed out various lacunae in the system.
A Comptroller and Auditor General (CAG) report tabled in the state Legislature today, highlighted the losses incurred by the Maharashtra State Road Transport Corporation (MSRTC) due to non-commencement of toll collection, closure of toll nakas, absence of inspections and recovery mechanisms.
ALSO READ: The menace of toll plazas
The report pointed out that the MSRTC has failed to issue notifications about the closure of toll booths that has resulted in Rs 16.06 crore excess toll collection.
The MSRTC had constructed two toll plazas at Nanded and Pune during 2010-11 and 2012-13 at a cost of Rs 82.82 crore and Rs 613.43 crore respectively. However, the government did not give a no objection certificate (NoC).
"In the absence of a decision by the government, the MSRTC could not commence the toll plaza so far (October 2014) and had to repay the loan through short-term borrowings with adverse effect on the financial condition of the MSRTC," the report said.
The CAG has also pointed out that due to a default in the payment by contractors, arrears of Rs 39.17 crore are yet to be recovered from 34 contractors as on March 31, 2014. 
"In the absence of a mechanism to capture real time revenues as well as traffic data, the revenue-sharing agreement with the contractors failed. The MSRTC lost the opportunity to earn its due share of revenue," the CAG said.
To create transparency in toll collection contracts, the government directed MSRTC to install real-time data electronic display boards in all the toll stations. 
While an agency given the task installed 63 displays at 30 toll plazas, the CAG observed, "The objective of accessing the toll plaza server for fetching the day-end collection details as well as display class-wise traffic summary and uploading the data and linking to PWD website was yet to be achieved."
On a test check of 40 toll collection contracts, the CAG observed that tenders for ten toll stations were not invited in time and delay ranged from two to eleven months and had to extend the existing contracts.
"The rates received against subsequent tenders, the loss of revenue worked out to Rs 13.24 crore and amounted to undue benefits to the existing contractors which could have been avoided by inviting tenders on time," the report said.