Calcutta HC shifts Kamduni rape, murder trial out of Barasat court
Kolkata: The Calcutta High Court today shifted the trial of the Kamduni rape and murder case from the Barasat district court to the city sessions court.  Justice Asim Kumar Roy passing an order on petitions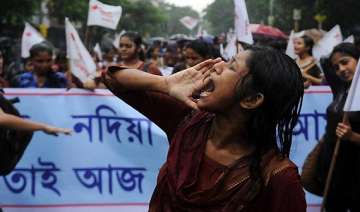 PTI
August 12, 2013 17:27 IST
Kolkata:
The Calcutta High Court today shifted the trial of the Kamduni rape and murder case from the Barasat district court to the city sessions court.  
Justice Asim Kumar Roy passing an order on petitions seeking shifting of the case said that the trail might get affected due to protests against the accused.  
The petitions stated that the accused were unable to find a lawyer to defend their case at the Barasat court due to security reasons.
The victim's family members, however, were not happy with the order and their counsel Jayanta Narayan Chatterjee said that they might consider appealing against the order.  
The Judge directed the West Bengal government to offer vehicle and proper transport for witnesses to attend court.