CBI registers case in alleged Rs 240-crore scam in gas supply
New Delhi: CBI has registered a case against the then General Manager of Gas Authority of India Limited in a Rs 240-crore scam in which seven private companies were allegedly favoured through under-billing and fake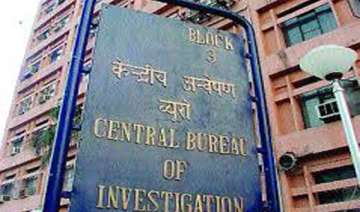 PTI
June 08, 2014 15:00 IST
New Delhi:
CBI has registered a case against the then General Manager of Gas Authority of India Limited in a Rs 240-crore scam in which seven private companies were allegedly favoured through under-billing and fake submissions.
CBI sources said the agency has named the then General Manager (Pricing) at GAIL, EVS Rao, for allegedly entering into a criminal conspiracy with seven private companies--MMS Steel, Saheli Exports, Kaveri Gas, Coromandel Electric Company, Arkay energy, OPG energy and Sai Regency to cheat GAIL, causing a loss of over Rs 240 crore to the PSU.
After registering the cases, CBI had carried out searches at 13 locations in Andhra Pradesh, Noida, New Delhi and Mumbai from where it seized crucial documents.
The sources said these companies had entered into separate agreements with GAIL in 2000. According to the deal, GAIL had to supply these companies with fixed quota of gas and prices were to be decided by the central government.
The sources said these companies were given cheap gas through Administered Price Mechanism (APM) which according to Government of India's policy was meant for the use of power and fertiliser sectors only.
Later, Government had decided that in public interest, all available APM gas would be supplied to only power and fertiliser sector consumers against their existing allocations along with specific end users committed under court orders/ small scale consumers having allocations up to 0.05 MMSCMD at the revised price of Rs 3200/MSCM.