CBI Takes Charge Of Ishrat Jahan Encounter Probe
Ahmedabad, Jan 6: The CBI today formally took over investigation into the 2004 fake encounter death of Mumbai college girl Ishrat Jahan and three others, following directions from the Gujarat High Court.A team of CBI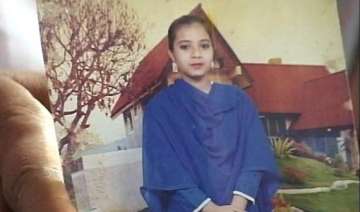 PTI
January 06, 2012 18:26 IST
Ahmedabad, Jan 6: The CBI today formally took over investigation into the 2004 fake encounter death of Mumbai college girl Ishrat Jahan and three others, following directions from the Gujarat High Court.

A team of CBI officials headed by IG V V Laxminarayan, who heads the Hyderabad Zone of the agency, was handed over the case papers and other documents related to the case here by officials of the high court-appointed Special Investigation Team (SIT), which has termed the police encounter as "fake".

Investigating officer for the case G Kalaimani, who holds the rank of Deputy Superintendent of Police (DySP), DIG Arun Bothra from the CBI Special Crime Zone (II) besides lower rank officials were present on the occasion.

According to SIT officials, they handed over case papers, evidences, original statements along with English translations to the agency.

The CBI, for the time being, would be operating from the office alloted to them in Gandhinagar old secretariat campus. It was given this office after it took over in 2010 the investigation into the 2005 Sohrabuddin Sheikh fake encounter case.

On December 1 last year, the high court handed over to the CBI further probe into the incident on June 15, 2004 when Ishrat (19) and Javed Sheikh alias Pranesh Pillai, Amjad Ali Rana and Zeeshan Johar were shot dead by an Ahmedabad Crime Branch team.

Investigation by SIT, which was set up to ascertain genuineness of the police action, had concluded that it was a staged killing and death of the four had taken place before the encounter.

The high court also asked the Central agency to probe the veracity of claims made by Gujarat Police after the encounter that the four persons were LeT terrorists on a mission to kill Chief Minister Narendra Modi.

Indicating a trust deficit in Gujarat Police while handing over the case to CBI, the court had observed, "keeping in view the paramount consideration of instilling confidence in the investigation and for maintaining credibility of investigation with the aim to book the real offenders, it appears to us that it would not be a case to be assigned to the State agency."

Following the high court's orders, the CBI had filed an FIR against 20 Gujarat policemen, including officers, on the basis of the SIT report.

The SIT, constituted in 2010, had concluded that Ishrat had no terrorist links as claimed by the police. However, the other three may have had terrorist links but there was no evidence to establish that, the report had maintained.