Hindu population, for the first time, drops below 80 % in India
New Delhi:  The Hindu population in India has for first time dropped below 80 percent, according to 2011 religion census that is yet to be released officially.According to the data available, Hindus now constitute 78.35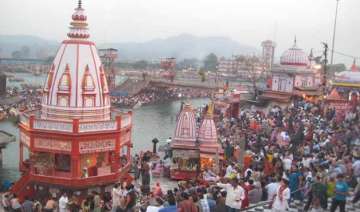 India TV News Desk
January 24, 2015 13:59 IST
New Delhi:  The Hindu population in India has for first time dropped below 80 percent, according to 2011 religion census that is yet to be released officially.
According to the data available, Hindus now constitute 78.35 percent of the total population of 121.05 crore compared to 80.45 percent of the total population in 2001.
Muslim population, interestingly, has gone up to 14.2 percent in 2011 compared to 13.4 percent in 2001 census.
The overall population of Hindus, however,  has increased from 82.75 crores in 2001 to 94.78 crore in 2011. In absolute terms, the Muslim population has gone up to 17.18 crore in 2011 compared to 13.8 crore during in 2001.
Another important fact that the census showed was that the bordering states of India has shown a sharp rise in the Muslim population. In the last six decades from 1951 to 2011, the Muslim population has increased from 9.8% to 14.2%, an increase of around 4%. On the other hand the population of Hindus has shown a decline of 5.75%. It was 84.1% in 1951 as compared to 78.35 % in 2011.  
The dip in the number of Hindu population is mainly attributed to growth in educational and income levels in the community.
However it need to be mentioned that the Hindu population during the same period have increased from 30.36 crore to 82.75 crore.  The population of other communities like Sikhs and Christians has been more or less the same as it was in 2001,  steady at  around 2% of total population.
This data was finalized in January 2014 but was not made public by the previous UPA government keeping in mind a possible negative fallout in 2014 general elections. Home Minister Rajnath Singh had announced last wednesday that the present government will officially declare the religion data soon.