Charge sheet filed against 'godman' in JK
Srinagar, Jul 6: Jammu and Kashmir police today filed a charge sheet against a fake 'godman' for sexually exploiting girls who were undergoing religious course at his seminary in Budgam district.The charge sheet against Gulzar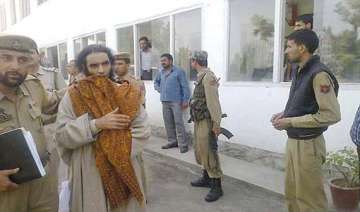 PTI
July 06, 2013 19:53 IST
Srinagar, Jul 6:
Jammu and Kashmir police today filed a charge sheet against a fake 'godman' for sexually exploiting girls who were undergoing religious course at his seminary in Budgam district.
The charge sheet against Gulzar Ahmad Bhat was filed in the court of Judicial Magistrate Budgam after completion of the investigation of the case, a police spokesman said.  
Bhat was arrested on May 21 after several girls, who were enrolled at his 'religious' school in Khansahib area in Budgam, accused him of raping them.
The spokesman said some girls who were undergoing special course in the seminary at Shamasabad lodged a written complaint on May 19, alleging sexual exploitation by Bhat.  
Accordingly a case was registered in Khansahib police station and investigation were set into motion, he said, adding the investigations have been carried out by a team of officers headed by Additional Superintendent of Police Budgam.  
"During the course of investigations the statements of the victims were recorded before the Judicial Magistrate and the medical examinations of the victims corroborated the commission of offence," the spokesman said.  
Besides, statements of the victims and medical examination, the investigating team also collected other corroborating evidences, which clearly establish the commission of offence by the accused and his disciples, the spokesman said.
The investigation reveals in some cases Bhat utilised the services of his close women 'disciples' to obtain the consent of innocent young girls by deceitful means, he said.  
"These women disciples used to explain the spiritual benefits of having relation with Bhat who according to them has attained the status of spiritual 'Rehbar' (guardian)," the spokesman said.