Chennai Metro promises HC not to demolish heritage structures
Chennai, July 17: The Chennai Metro Rail Limited has assured the Madras High Court that it would not demolish any building of heritage value for its metro rail project.Recording this undertaking, a division bench comprising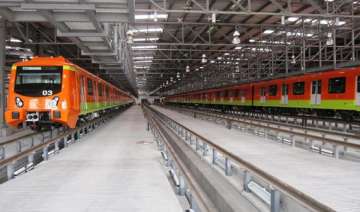 PTI
July 17, 2013 7:15 IST
Chennai, July 17:
The Chennai Metro Rail Limited has assured the Madras High Court that it would not demolish any building of heritage value for its metro rail project.
Recording this undertaking, a division bench comprising justices Elipe Dharma Rao and M Venugopal has upheld the Tamil Nadu government's power to resume its leased properties opposite central railway station and give a portion to the metro rail project.
The bench, however, said "a plan has been submitted before us by CMRL...(they) are preserving the heritage structure (opposite central railway station). We have no doubt that CMRL will protect the heritage structure and plan its usage in such a way that it will not affect the heritage structure."
The matter relates to the Ramasamy Mudaliar Choultry opposite the station. The choultry came into existence after government granted land in August 1888 with a condition that the choultry be given to train travellers free of cost.
It also made it clear that government could resume the land without any compensation if it is used for any other purpose.
In 2010, the government found that the land was required for metro rail project and also noticed that a large portion of the land had commercial establishments on lease or sub-lease in violation of the original grant condition.
It sought to take over the choultry and other properties through the Administrator-General and Official Trustee (AG&OT), against which a batch of writ petitions were filed.
A single judge, noting that the occupants of the buildings had not been given opportunity of hearing, remanded the matter back to the government.
The present bench, pointing out that the government had addressed communication to the AG&OT, which was the custodian of the property, said when the AG&OT was administering the property it was enough for government to put the officer, not the tenants, on notice. In turn the AG&OT had served the notices on tenants and lessees.
Sub-leasing of the property and charity taking the back seat with commercial activities in full swing are valid grounds for resumption of land by government, the judge said.
However, as for a portion of the land for which lease period has been extended up to 2027 and a hotel too was standing on it, the judges said the occupant had not defaulted any payment and the plot was outside the metro rail's purview.
Noting that he had built a huge building with his own funds, the judges said to order demolition of the building "for no legal or useful purposes" is waste of public resources.
They then said the building and its occupant were entitled to be excluded from the project area.