Half Girlfriend: Author Chetan Bhagat slapped with Rs 1 crore defamation suit
New Delhi: A scion of the former kingdom of Dumraon in Bihar has slapped Rs 1 crore defamation suit on renowned author Chetan Bhagat for making derogatory references to his family in his book 'Half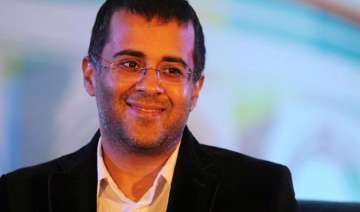 India TV News Desk
April 22, 2015 13:05 IST
New Delhi: A scion of the former kingdom of Dumraon in Bihar has slapped Rs 1 crore defamation suit on renowned author Chetan Bhagat for making derogatory references to his family in his book 'Half Girlfriend'. 
The defamation suit, which was filed in the Delhi High Court by Chandra Vijay Singh, said that the references are 'false and derogatory in nature' in Bhagat's latest novel 'Half Girlfriend'.
The family alleged that the novel depicts the royals of Dumraon as alcoholics and gamblers.
Publisher of Bhagat's book, Rupa Publications, has been named as the other respondent in the suit. 
The Delhi High Court has summoned Chetan Bhagat and Rupa Publications to appear before it on May 1.
According to Shivang Vijay Singh, son of Chandra Vijay Singh, Bhagat was given enough time to fix his mistake but he did not heed to their requests.
Meanwhile, Bhagat has described his novel as a work of fiction saying it is a mere coincidence that a character of his story belongs to a royal family.
Bhagat has authored popular books like Five Point Someone, One Night at the Call Centre and The 3 Mistakes of My Life.