Chief Election Commissioner favours collegium to choose Election Commissioners
New Delhi: Chief Election Commissioner Nasim Zaidi favours a collegium type set up to choose the CEC and Election Commissioners who he says should have equal protection under the Constitution in the matter of removal.He,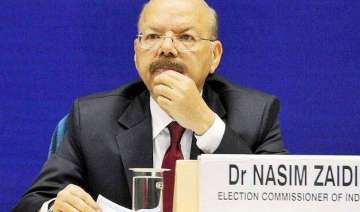 PTI
May 31, 2015 23:24 IST
New Delhi: Chief Election Commissioner Nasim Zaidi favours a collegium type set up to choose the CEC and Election Commissioners who he says should have equal protection under the Constitution in the matter of removal.
He, however, hastened to add that the present system of selection of Election Commissioners and the three-member Commission is working fine.
"I would say that the (present) system has also worked well. But if there is a consensus going forward that this system needs to be replaced by a consultative system, I think the Commission would live with that and work well.
"Even in the absence of this consultative process, CECs and ECs have acted very neutrally, very independently," he told PTI in an interview.
He was responding to a question on the recent recommendation of the Law Commission that the appointment of Election Commissioners, including the CEC, should be made by the President in consultation with a three-member collegium.
The collegium should consist of the Prime Minister, the Leader of the Opposition of the Lok Sabha (or the leader of the largest Opposition party in the Lok Sabha) and the Chief Justice of India, it had said.
Zaidi recalled that a committee had some years ago recommended a collegium system for appointment of Election Commissioners.
"They focused on Election Commissioners. By seniority, the EC becomes CEC, unless there is something extraordinary. They said the EC should enjoy the confidence of the entire political arena. A bill was also brought, but it did not succeed," he said.
Asked whether he supports the demand raised by his predecessors that all the Commissioners be made equal even in matter of removal, Zaidi said he is in "total agreement with all my predecessor Commissioners. The Commission had been taking it up with Law Ministry. Law Commission has reiterated it and this recommendation has merit".
In its recent report on electoral reforms, the Law Commission has recommended amending Article 324(5) of the Constitution to equate the removal procedures of the two Election Commissioners with that of the CEC.
Government appoints the Chief Election Commissioner and other Election Commissioners. The CEC can be removed from office only through impeachment by Parliament. The government can remove the Commissioners either on the recommendation of the CEC or even without it.
Zaidi defended the multi-member Commission saying, "three-member Commission is the best, my experience tells me... EC is dealing with the most sensitive subject of democracy. Therefore, it is always essential that more than one person sits, they apply their wisdom and arrive at a decision after detailed discussion and informed decision making."
Responding to suggestions that even one-member poll body was sufficient, he said, "Three-member Commission is a very desirable proposition. Not more (than three) because decision making will be very difficult. Three, we can make very quick decision, on spot."
Election Commission is a permanent constitutional body which was established in accordance with the Constitution on January 25, 1950.
Originally, the Commission had only a Chief Election Commissioner. For the first time two additional Commissioners were appointed on October 16, 1989 but they had a very short tenure till January 1, 1990.
Later, on October 1, 1993 two additional Election Commissioners were appointed. The concept of multi-member Commission has been in operation since then, with decision making power by majority vote.
Asked about his view on a 'legally specified bar' on Constitutional dignitaries like ECs taking up political posts after retirement, Zaidi said in the past no CEC or EC has opted for a post-retirement job.
"If you look at the history, I think CECs and ECs have not opted for this."
When reminded that at least some have gone for a post- retirement assignment, Zaidi said he would not go into that.
"By and large, CECs after retirement have become part of the society. They have played very active role in generating debate, reflecting on various current issues. I think there is a merit that after retirement, these dignitaries should not enter the political (arena)," he said.