Chinese troops intruded 20 km inside Arunachal, leave after 4 days
New Delhi: In yet another face-off with Indian Army similar to the one in Ladakh, Chinese troops reportedly intruded more than 20 kms into Indian territory last week in Chaglagam area of Arunachal Pradesh and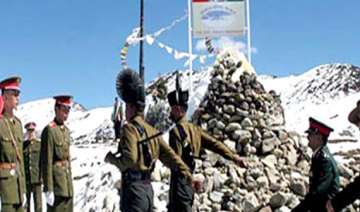 India TV News Desk
August 22, 2013 9:35 IST
New Delhi:
In yet another face-off with Indian Army similar to the one in Ladakh, Chinese troops reportedly intruded more than 20 kms into Indian territory last week in Chaglagam area of Arunachal Pradesh and stayed there for about four days.
A contingent of Peoples Liberation Army reportedly intruded into the Indian territory on August 11 and stayed put there, Defence sources said in Delhi today.
The intrusion was detected on August 13 and the Indian troops asked them to go back, the sources said.
Both sides showed banners to each other to leave the area, the sources said. The Chinese soldiers left on August 15, they said.
Official sources in Itanagar said the Chinese troops went back after a 15-minute Border Personnel Meeting.
"They had come and now they have gone. The Indian troops are present at the spot in strength," the sources said.
The Chaglagam area, also known as "fish tail" because of the shape of the LAC in the area, has consistently seen intrusions by the Chinese in the past but they have always gone back immediately.
China lays claim over entire Arunachal Pradesh which is rejected by India. Both the Army headquarters in Delhi and the External Affairs Ministry downplayed the incident.
"We don't take up non-events in diplomatic practice. What has happened or not is upto sentinels of our borders to answer. They know the factual position on this and I think they have answered that.
"There has been a rebuttal by the army on this and we don't want to go beyond that. And consequent to that, obviously, if that is what the position was, we don't focus on non-events in diplomatic practice," External Affairs Ministry spokesman Syed Akbaruddin told reporters in Delhi.
He was asked whether India has taken up with China the issue of incursion in Arunachal Pradesh.
A BJP leader from Arunachal Pradesh, Kiten Rijju, said Wednesday that the   Chinese troops transgressed the Line of Actual Control (LAC) and had intruded 60 km inside.
Kiren Rijiju, a former Bharatiya Janata Party (BJP) MP from Arunachal Pradesh, said that Indian and Chinese forces were locked in a face-to-face situation in Anjaw district of the state.
"Chinese troops have erected tents and are carrying military equipment. According to information from our party workers, they have managed to intrude about 60 km inside our territory," Rijiju told IANS.
Rijiju said that the intrusion began Aug 13 and the Chinese troops had been able to come deep inside. He said the army was not permanently deployed in the area and Indo-Tibetan Border Police was looking after the security of the area.
"It is a major intrusion. The government should immediately talk to China and ask it to pull back its troops," Rijiju said.
He said that Indian and Chinese troops were near Plamplam post, about 60 km from the LAC, and 20 km from Chaglagam, an administrative centre where the Arunachal Pradesh government has posted its officials.
He said party activists had been asked to visit the area.
Tapir Gao, a BJP general secretary from Arunachal Pradesh, claimed here were over 100 Chinese troops in the area.
Indian Army officers, however, did not say if there was an intrusion. They said there was a difference of perception of the LAC and added that both sides go on long patrols according to their perception of the boundary.
There have been a spate of Chinese intrusions in the past few months.Chinese troops had ptiched tents in the Ladakh sector of Jammu and Kashmir in April and had pulled back after 21 days following flag meetings and talks at the official level.
Indian and Chinese forces were "face-to-face" in the Chumar sector of Ladakh after Chinese troops transgressed into the Indian side on June 17 and took away a surveillance camera, which they later returned.