Coimbatore police seizes 726 kg banned gutka products
Coimbatore (TN): The local railway police on Saturday seized over 726 kilograms of banned gutka products packed in 11 sacks at the railway station here Pan masala, gutka, hans like products are banned in Tamil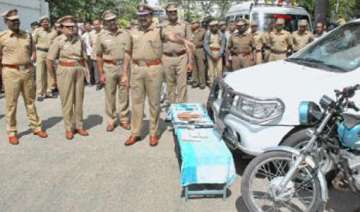 India TV News Desk
October 27, 2013 8:14 IST
Coimbatore (TN)
: The local railway police on Saturday seized over 726 kilograms of banned gutka products packed in 11 sacks at the railway station here
Pan masala, gutka, hans like products are banned in Tamil Nadu.
The consignment was booked from Chennai to Mangalore, said Railway Police sub inspector Sunil Kumar.
A similar consignment was seized a few days ago, he added.
The booked consignment was screened through x-ray machine at Coimbatore and then seized.